Black Ridge
Arabians



BR Gold Sovereign (*Seffer X PR Silver Dream by *Silver Vanity), 1999 chestnut stallion, General Stud Book eligible, 99.79% Crabbet. Both parents tested negative for SCID.

STALLIONS AT STUD
BR Gold Sovereign
SALE HORSES
Under saddle
Young horses
Breeding stock
OUR BROODMARES
OUR FOALS
The Arabian horse is known for its beauty. But it is also the ultimate riding horse and companion, a horse that for centuries was bred to carry its owner across the desert through extreme weather conditions of heat and cold.

Black Ridge Arabians is breeding Arabian horses descended from those collected in the deserts of Syria and Arabia and purchased from the greatest breeding programs of Egypt in the last century by Lord Byron's granddaughter, Lady Anne Blunt, and her husband, Wilfred Blunt, who was a well-known poet in his day. These Arabian horses are known as "Crabbet" Arabians after the Blunt family estate, Crabbet Park, in England. The Blunts and their daughter, Lady Wentworth, bred for temperament, ridability, correct conformation, and beauty.

Some of our horses are "straight Crabbet" in blood, with all ancestors descended from the Crabbet horses. These are the rarest Arabian bloodlines in the United States. A second blood group is the Old English, or General Stud-Book-eligible Arabians, with all ancestors imported to England before 1920, when the Jockey Club ceased to register new Arabian imported horses. There are only about 200 Arabians of this blood group left in the United States. We also have horses which represent the outcrossing of these bloodlines to horses imported from Egypt and Poland to the United States since 1960.
Gorgeous 1999 Arabian filly for sale, by Majnun Ibn Sobara out of Kissmequick by AM Count Fast+/--check out these photos. Great conformation, extreme head, sweet as cherry pie. Buy her so you don't have to show against her!
BR Gold Sovereign is 15.1 hands, gorgeous chestnut with lots of chrome. Old English, General Stud Book-eligible and 99.79% Crabbet--by *Seffer out of the last-born *Silver Vanity daughter, PR Silver Dream. Sweepstakes nominated. At stud in 2009 for the first time in 5 years!.
Awaiting one 100% Crabbet foal in August, 2001 by *Star Reflection X BR Fire Opal by *Seffer.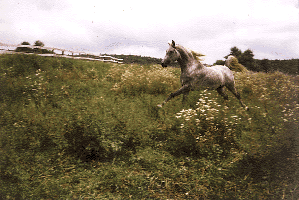 Majnun Ibn Sobara has been sold to Judy and Emory Altizer of Pilot, VA!
Congratulations on your purchase of this wonderful horse!

We are breeding to produce Arabian dressage horses for amateur owners--horses with the temperament and athletic ability to be faithful, loving mounts who will do well in the show ring.
For videos, sale list, photos, or more information:
Black Ridge Arabians
3447 Black Ridge Road SW
Floyd, VA 24091-4026
540-593-2117 or 540-593-2166
e-mail: felker@swva.net