We are closed for the 2017 Season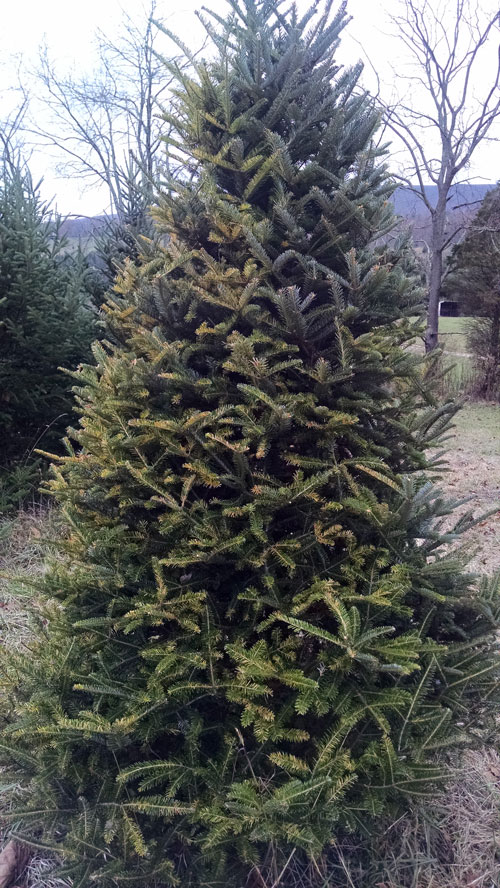 Clover Hollow Christmas Tree Farm will NOT OPEN for the 2017 season. This is the first time we've ever needed to do this and we're not happy about it… our decision to close for this season is rooted in our deep commitment to bringing our customers only the highest quality Christmas Trees.
Why did we make this decision?
Have you ever heard of the Elongate Hemlock Scale (EHS)? Neither really had we - it is an introduced insect from Asia that first showed up in NC a number of years ago and one of its favorite hosts is Fraser Fir. EHS has been spreading north and we started seeing it on the farm two years ago. Controlling the EHS, even with conventional pesticides is difficult. Our commitment to using organic, sustainable, methods meant we have tried to control EHS with low-impact approaches – in our case we used a summer grade horticultural oil that is certified for use in organic operations.
Things seemed to go well at first – however as we've come into the Fall it has turned out the oil burned the new growth on the trees leaving them looking very yellow and causing them to drop too many needles (some needle drop happens every Fall). The extent of the burn and the yellowed needle drop have led us to the reluctant conclusion that we can't open the farm this season.
Fortunately we did not spray the younger trees meaning we'll be back with a great supply next year.
If you have an interest in a larger Concolor Fir please give us a call – the Concolors are not affected by the EHS and we have some very nice Concolors in the larger sizes – we'd be happy to have you come cut a tree. Ditto for Myers Spruce.
---
Our Story
For 27 years Clover Hollow Christmas Tree farm has been sustainably growing Christmas trees - something we're very proud to say! When we were starting out back in the 1980s we were told it wasn't possible to grow a "market quality" Christmas tree without the use of fertilizers and herbicide - fortunately we were too stubborn to listen! And for more than 20 years our customers have enjoyed the results. Our firs and spruces are not sprayed or fertilized - they take longer to mature but the outcome is a more natural appearing tree with lots of individual character. Come see for yourself how beautiful the trees are - we have plenty to choose from.
Many thanks for visiting our web site - wishing you the best.
Tom Brobson & David Brady Proprietors